Oceans of Possibilities - Summer Reading 2022
Events for Summer Reading 2022

Summer Reading 2022
Kids can pick up their reading log (free book bag for each kid signing up, supplies are limited). Kid prizes are an ice cream coupon when half way complete and a brand new book, of their choice, when completed.
Teens and adults can submit a slip for each book read to win prizes. Teen prizes will include: . Adult prizes will include gift cards to local businesses.
Check out our StoryWalks® at the library and Bieth Park. New stories each month.
Call our Story Line at (989) 262-9912 for a new story every week.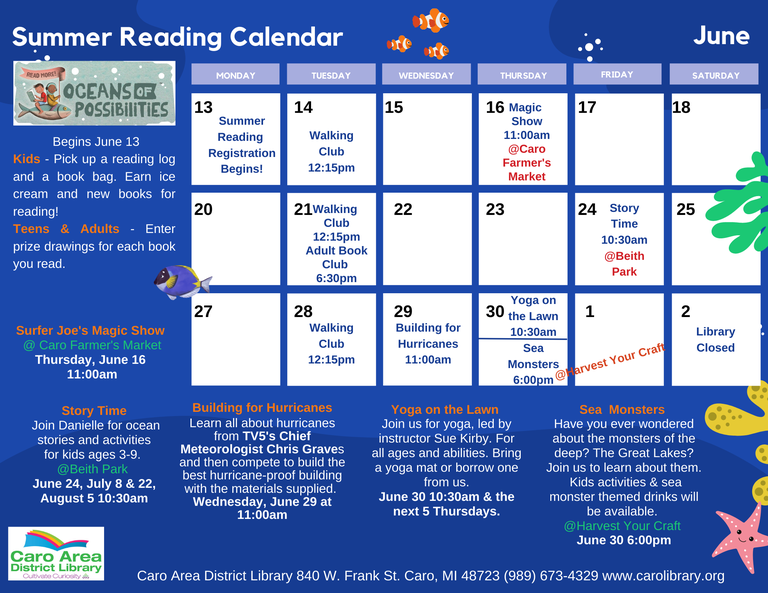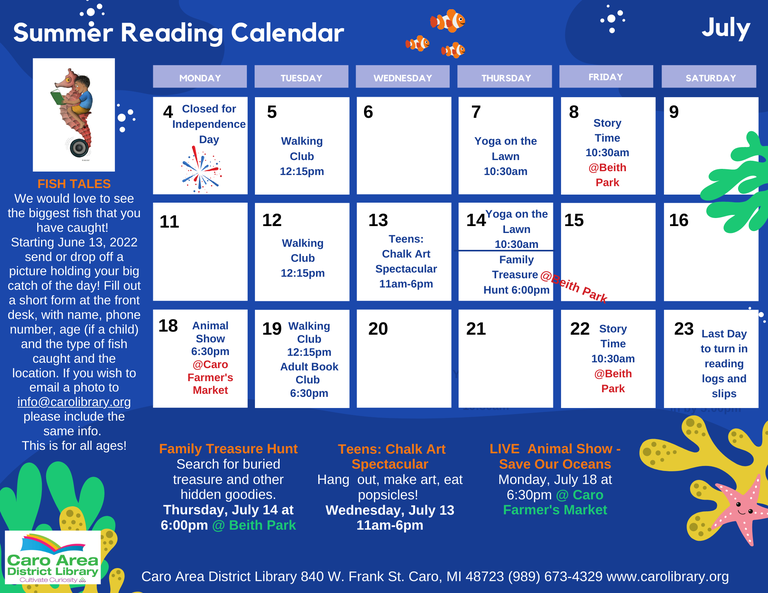 Surfer Joe's Magic Show
Hang 10 withSurferJoel as he brings an ocean of books to life!  Featuring magical surprises, wacky stunts, and lots of audience participation, this wholesome show will have kids & grown ups laughing out loud and crazy about reading.
@ Caro Farmer's Market
Thursday, June 16 11:00am
Story Time
Join Danielle for ocean stories and activities for kids ages 3-9.
@Beith Park
June 24, July 8 & 22, August 5 10:30am
Building for Hurricanes
Learn all about hurricanes from TV5's Chief Meteorologist Chris Graves and then compete to build the best hurricane-proof building with the materials supplied.
Wednesday, June 29 at 11:00am
Yoga on the Lawn

Join us for great yoga on the lawn. Local yoga instructor Sue Kirby will be leading us out on the lawn on the west side of the library. Bring your own yoga mat, or we will have some to provide. No registration required. 
Thursdays, June 30, July 7, 14, 21, 13, August 4 at 10:30am

Sea

Monsters
Have you ever wondered about the monsters of the deep? The Great Lakes? Join us to learn about them. Kids activities & sea monster themed drinks will be available.
@Harvest Your Craft
Thursday, June 30 6:00pm
Teens: Chalk Art Spectacular
Hang out, make art, eat popsicles!
Wednesday, July 13 11am-6pm
Family Treasure Hunt
Search for buried treasure and other hidden goodies.
@ Beith Park
Thursday, July 14 at 6:00pm 
LIVE

Animal Show -Save Our Oceans
We live on land but share our planet with a huge variety of sea life. Many animals like amphibians, turtles, crocodiles, and other live on both land and sea. In this program, we explain the links between ocean and land animals. The importance of protecting our ecosystems in the fascinating program which features a variety of live animals.
@ Caro Farmer's Market
Monday, July 18 at 6:30pm 
For other great library programs, don't forget to check our library calendar.